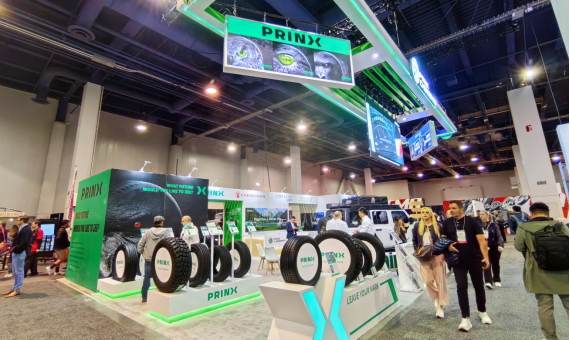 From October 31 to November 3, the globally renowned tire manufacturer, PRINX CHENGSHAN, showcased its two major brands, Prinx and Fortune, at the 2023 show of the Specialty Equipment Market Association (SEMA SHOW 2023) in Las Vegas, USA. This event brought a wide range of high-performance products to North American customers. Following a successful launch in the European market with a grand event in Italy in May 2023, PRINX CHENGSHAN's high-end brand, Prinx, officially made its debut in North America.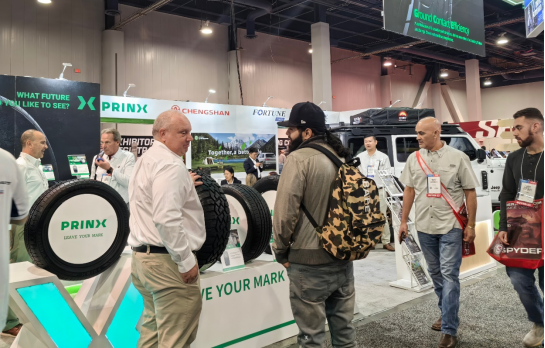 As a brand that has received prestigious international industrial design awards such as MUSE (USA), A'DESIGN AWARD (Italy), and DNA (France), the revitalized Prinx brand had a prominent presence at this year's SEMA SHOW. Products such as the HiCOUNTRY HT2 urban SUV tire, R/T HR1 off-road tire, and HM1 mud tire exhibited the brand's consistent high quality and standards in terms of both design and performance. This drew significant attention from customers, allowing numerous attendees to witness the robust capabilities of Chinese-made tires.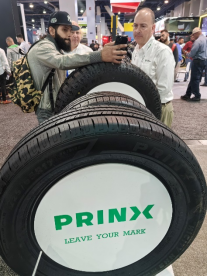 The highlight of this exhibition was the introduction of the all-season high-performance 4S series tire, thoughtfully created for North American users. Among these, the HISEASON 4S HS1 all-season tire features a new compound tire surface formula and a variety of intricate grooves designed to maximize water film cutting on wet and slippery surfaces, enhancing its resistance to hydroplaning. The diverse patterns of lateral grooves, in a stepped design, further enhance the overall rigidity and wear resistance of the tread blocks. Additionally, the new "snow claw" and stepped tread block edge improve the tire's grip on snow, ensuring powerful traction in wet conditions, and agile handling in snow, effortlessly coping with the ever-changing weather and diverse road conditions throughout all four seasons of the year. Judging by the enthusiastic feedback at the exhibition, the 4S series tires will undoubtedly become another valuable asset for PRINX CHENGSHAN in the North American market.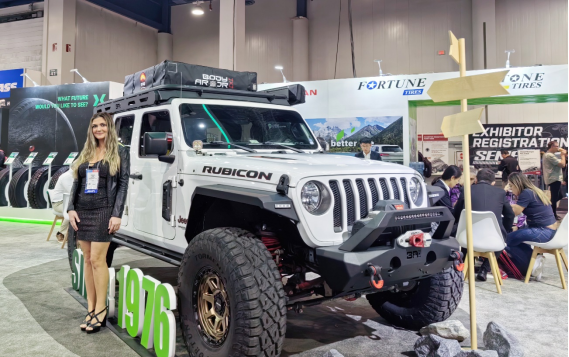 Fortune, another brand under PRINX CHENGSHAN, has been deeply rooted in the North American region for several years and is very popular among users. The eye-catching display at the show was the Fortune FSR309 R/T tire loaded on off-road vehicles. This off-road tire, with its unique formulation and tread design, delivers exceptional traction, while the shoulder design effectively protects the sidewall and enhances tire durability. Owners can experience driving enjoyment on various terrains, making it a surprising "off-road rider." The brand's philosophy of "Driving Forward" reflects the positive spirit of off-road sports.
With the entry of high-end brands into North America, PRINX CHENGSHAN has evolved its concept, products, and brand. It is taking on a "complete evolution" approach to continuously strengthen its presence in regional markets. In the future, it will enhance its global product line and service network, strengthen collaboration with top-tier customers, and advance its "internationalization" strategy in the new era of sustainable travel. It is embarking on a "new journey" for Chinese tires in the global market.