From March 8th to 10th, the 2023 Tyrexpo Asia, which returned after a four-year hiatus, was held at the Marina Bay Sands Convention Center in Singapore. PRINX CHENGSHAN made a strong debut with its full line of new products. As the initial presentation in the Asia-Pacific market after the upgrading and revamping of its four major brands, Prinx, Chengshan, Austone, and Fortune in 2023, PRINX CHENGSHAN international new product matrix stood out among global tire companies in the same arena and received extensive praise from conference attendees and overseas media for its strong innovative technology and reliable specialized services.

Four Major Brands Unveil with New Upgrades, Showcasing China's Tire Strength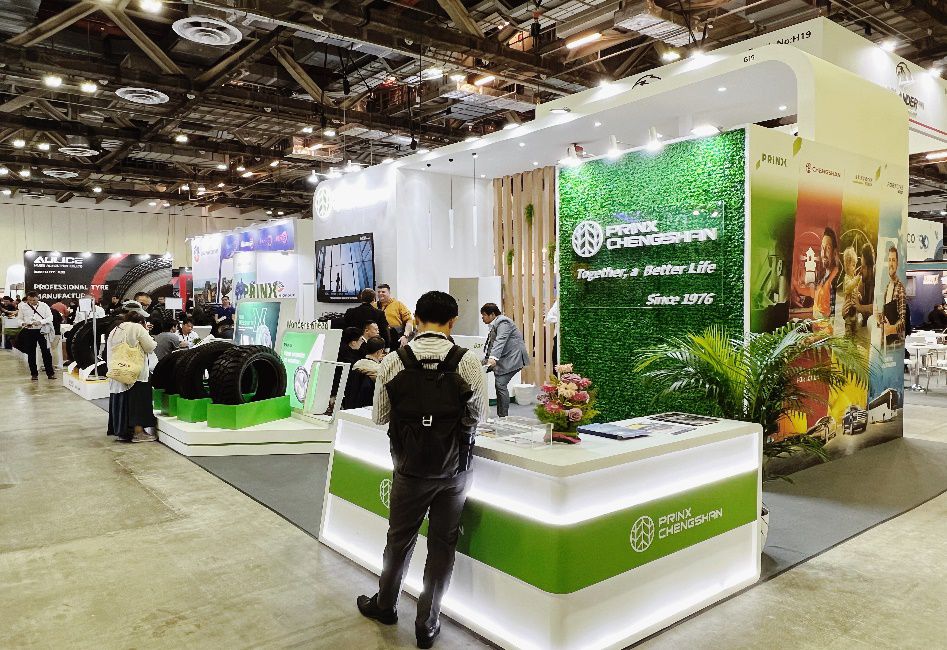 As the top exhibition in the Asia-Pacific automotive parts industry, the 2023 Tyrexpo Asia in Singapore attracted participation from companies in 17 countries and regions, including over 40 Chinese tire exhibitors.

"We have brought the new PRINX EV and OTR series, which will bring a completely new experience to the (Asia-Pacific) market and better meet customers' multiple needs," said Chu Xiaohua, General Manager of PRINX CHENGSHAN International Sales Center. In recent years, with the implementation of a brand strategy that combines internationalization and localization, and the differentiation of multiple brands, PRINX CHENGSHAN has systematically revamped its brands. Meanwhile, by relying on PRINX CHENGSHAN's national-level enterprise technology innovation center and new energy collaborative research center, our company has vigorously conducted cutting-edge tire technology research, created an international standard new product matrix, and achieved fruitful results. The collective debut of the four major new products also showcases PRINX CHENGSHAN's confidence in accelerating its entry into the Asia-Pacific market.

Cutting-edge Technology Leads the Industry,PRINX CHENGSHAN Creates Customized Tire Solution

"Innovation, strength, and sustainability" are overseas media's most commonly used words to comment on PRINX CHENGSHAN during this exhibition. The new product lineup of PRINX CHENGSHAN showcased at the exhibition includes Passenger Car Radial (PCR), Truck and Bus Radial (TBR), and its four major brands: Prinx, Chengshan, Fortune, and Austone, which has received wide attention on the scene.


Regarding PCR, PRINX CHENGSHAN showcased a full range of SUVs and off-road vehicle tires, such as HT, AT, RT, and MT, as well as high-end sports tires. Prinx, the company's premium and youthful brand, not only exhibited its new HP and UHP products set to be launched in the European market but also introduced the XNEX SPORT EV tire designed for the trend of intelligent and electric vehicles in the global automotive market. It's worth mentioning that this tire comes with its unique Silenteck noise reduction technology and a velvet sidewall design, representing a high-end and accessible product.


For TBR, targeting the hot and rainy climate and complex road conditions in Southeast Asia, Prinx has launched a series of products designed and developed specifically for this region, considering different application scenarios. These include FH123 for long-distance steering position and T121 for drive position, which have excellent quality in high wear resistance and high load-bearing capacity. AR603 is the representative of Prinx's new generation metric tire product for regional transportation. T327A for mixed road conditions in mining areas can meet the demanding and complex application scenarios of "mining area+good roads conditions". PRINX CHENGSHAN's full steel OTR (off-the-road) product ET01 also made its debut at this exhibition.

Accelerate the Layout of the Asia-Pacific Market, Starting A New Journey of Globalization

As a representative enterprise of China's new tire manufacturing pursuing an internationalization strategy, PRINX CHENGSHAN has been deeply rooted in the Asia-Pacific market for many years. In 2020, PRINX CHENGSHAN's intelligent production base in Thailand was successfully put into operation, and the second phase of the project has also been put into production successively in 2022, providing strong support for the growing overseas market demand.

In terms of production and research and development (R&D), PRINX CHENGSHAN continues to increase R&D investment and has successfully established a basic research system with independent intellectual property rights. It has also established a design and simulation integrated platform, realizing design automation and intelligent performance prediction, which can provide adequate technical support for product development in different world regions.

In terms of service and support, the enterprise is striving to build a localized service network to provide high-quality services for customers in different regions of the world. Currently, the enterprise has served more than 160 countries on six continents. Chua Xiaohua, the General Manager of PRINX CHENGSHAN International Sales Center, is full of confidence in developing the global market: "With the help of production in Thailand, we will accelerate our layout in the Asia-Pacific market. Based on our accumulated production, manufacturing, and R&D strengths, we will better position ourselves in the market and create more ultimate product power. We will make more consumers choose Prinx Chengshan tires, leading PRINX CHENGSHAN to the forefront of the world."