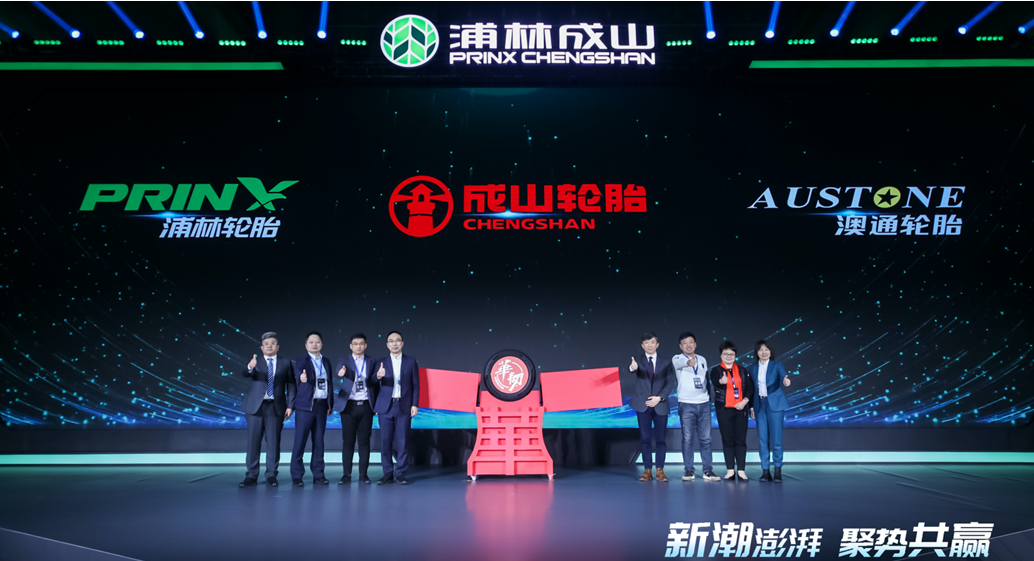 Che Baozhen, CEO of Prinx Chengshan Holding Co., Ltd. (fourth from the left), Yu Hang, VP of Prinx Chengshan Holding Co., Ltd. (fourth from the right), Gao Yong, GM of Prinx Chengshan Marketing Center (first from the right), and representatives of dealers launches the HUA line series.
Prinx Chengshan PCR Tires Dealer Conference 2022, was held on February 18, this year in Tai'an City, Shandong Province, wherein the first launched HUA PCR series, a new line under the famous Chengshan brand of the Company, drew considerable attention and good review from over 100 dealers across the country. Still, Mountain Tai, the foremost of the five Sacred Mountains of China, is just located north of the city. Such a well selected conference venue speaks volumes about the resolution and further efforts of the Company to create a famous brand in the PCR field by virtue of an in-depth combination of high quality products and the Chinese culture.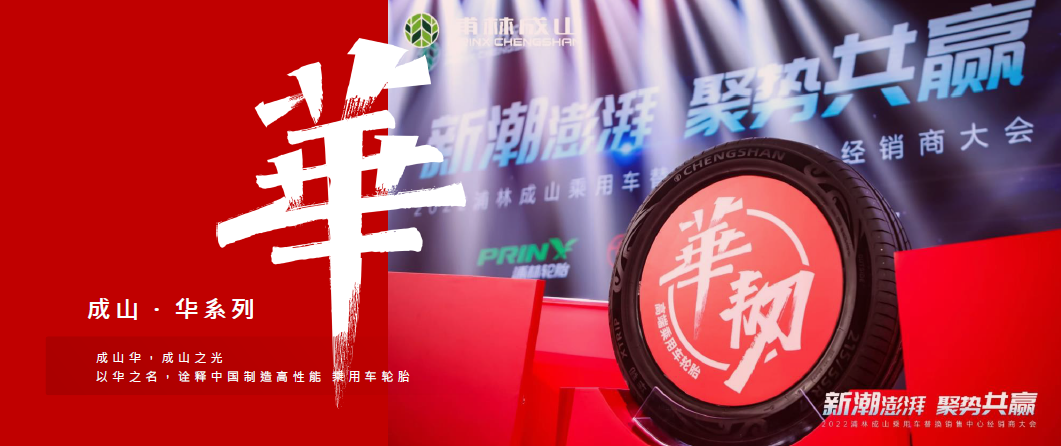 HUA, the cream of the crop
HUAREN tire, as the first launched flagship line of Chengshan HUA PCR series, debuted at the Conference. Thanks to its nano base and double-layered plies, it boasts a higher wear-resistance, thus allowing for longer distance. Besides, it also features in lower rolling resistance, great braking on wet surfaces and excellent noise reduction, the tested performance results of which are all aligned with the standards of world first-class like products.
Further to its long-lasting service life, favorable comments have flooded in, upon its way of leading the national trend of fashion with the Chinese brand name HUAREN, that is of fine workmanship and high-end texture, and easy to be cleaned, etched on its velvet-effect sidewall (first ever among domestic tire brands). Along with China's BRI progress, Prinx Chengshan, in 2022, will compete in the global market with a brand-new brand image that features in an international-oriented product matrix, including the HUA line series. Along with the sales of Chengshan brand products across the world, echoes the confidence of the Chinese nation.
Not alone, the Conference, as well, highlighted the brand-new star-rated dealership design and channel strategies of the Company. Chengshan Tires, as a 46-year-old national tire brand, command awards one after another, in 2021, including one of China's 500 Most Valuable Brands of 2021, a list released by the World Brand Lab, one of Top 10 of China's Most Influential Tire Brands of 2021, a list released at the World Executive Summit, as well as Auto Supply Chain Excellence 2021, an auto aftermarket golden star award by CCVAC. Its brand value, in the year, reached to 34.158 billion yuan with a year-on-year increase of about 20%. The success rests on its longstanding brand legacy.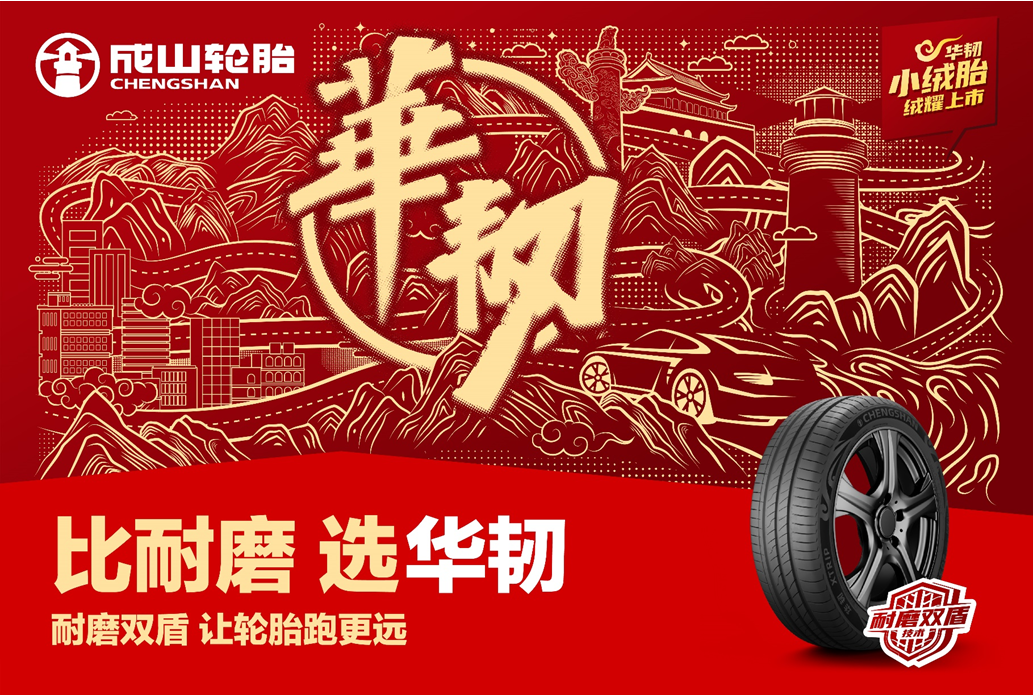 Leading tire innovation with craftsmanship and intelligent manufacturing
The first homemade radial tire, independently developed by Prinx Chengshan, came off the production line in the 1990s. It ushered in a new era of modernization of Chinese tires and represented the firm determination of the Company to lead tire innovation. Years on, the Company has put increasing investment into its research and development. It has, relying on Shandong Provincial Enterprise Technology Innovation Center, built up four major R&D Design and Innovation Platforms (including tire performance dynamic simulation design) and has worked with institutions such as Shanghai Jiao Tong University and Qingdao University of Science and Technology for the Industry-University-Research Collaboration. Prinx Chengshan, by June 2021, has obtained 225 technical patents. The performance of its several product lines outperforms AA1, the EU highest rating since the implementation of Tyre Labelling Regulations. The Company has four brands, i.e., Prinx, Chengshan, Austone and Fortune. Thanks to its high-performance products and high-quality service, it has established long-term partnerships with a train of domestic and international famous automakers. It serves customers from over 120 countries, in Asia, North America, EMEA and South Americamarkets, with a sustainable high growth of overseas sales. The Company, by virtue of its constant pursuit of innovation and quality, has participated in the formulation of more than 30 national industrial standards. Its Technology Innovation Center, in 8 consecutive years, has ranked first in the standing of innovation capacity among competitors across the country.
Prinx Chengshan, in recent years, has pushed ahead with green, intelligent, international-oriented and brand-focused development strategy. Its transformed and upgraded manufacturing facilities, against the backdrop of Industry 4.0 technologies, epitomizes its further approach to the PCR market. A Synergy Institue of Tires for New Energy Vehicles was set up by the Company in 2019, as a collaborative effort with famous scientific institutions such as Qingdao University and Jilin University. The Institue focuses on R&D of balanced tire performance equilibrium and has made constant breakthroughs. EV0 product, one intended for NEVs that has been widely used on ORA GMW and other best-selling models, has been well received by the customers; several AAA-rated products, accredited so by authoritative agencies, take the lead in the global market; Xiao Pu, an omnichannel digital system developed by the Company, was put into service in 2020. Since then, dealers across the country have been allowed to complete functions such as placing order and distribution by only one-touch operation. The smart and refined management that highlights digital technology, boosts the distribution channel development. By doing so, the sales revenue from PCR sector, in the first half of 2021, was almost doubled compared to the same period last year.
Prinx Chengshan, in 2021, for a sustainable development of communications and against the rapidly increasing new demands of customers, reshaped its PCR products and brand based on integration of its cumulative user data in 46 years, and research on and necessary communications about the system. The Company also has made headway towards building a multi-outlet new retail digital channel, a portable and mobile service circle as well as optimal and multipronged customer experience. Its all-round and reshaped brand experience and value proposition, aims at connecting with customers via the digital and younger brand language. In such a context, the commitment of the brand to the customers and partners under an era of sustainable travel is being restated that, the innovation and creation, that is, the newly created intelligence and perceivable SciTech will help, not some but everyone, tap into the bright future life.